Barry Bennett, born in 1931, began manufacturing hollow plywood surfboard and skis in the early 1950's at Waverley in the Eastern Suburbs of Sydney as a part time business. In 1956, after the introduction of the short 10'6″ plywood hollow Malibu; production began on a full time basis, yet production was limited to five boards per week. In 1958, the production was moved to Harbord, near Freshwater Beach.
At this time balsa board production numbers rose to ten custom orders per week.
Bennett Surfboards Pty Ltd was formed in 1960 which saw the first factory built exclusively for the manufacture of surfboards and blanks on Harbord Road, Brookvale.
With five employees, all top surfers of that era, production numbers rose to forty-five boards per week, using polyurethane blanks moulded on the Harbord premises. Balsa was phased out in 1960 when Urethane production began in the same year.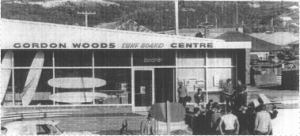 Early days of Bennett production in Sydney's Eastern Suburbs